THE STREETS OF SAN FRANCISCO,
FROM THE TAXI DRIVER'S SEAT,
Special Edition:
The Black and White City,
February - November, 2006.
When I was shooting black and white film I became quite a pro in the dark room. Sometimes I would spend almost an hour on one image and make five or six different exposures on the photographic paper to make a perfect print. Working with digital color is not the same as black and white film. I worked on these images on my computer and tried as possible to do what I would do in a photographic darkroom. I tried to get as close to a pure black and white photograph using photoshop without dodging and burning the image.

I believe the following images work best in black and white. Some of them were shot early this year. Instead of using them on one of the color pages, I waited until I had enough black and white images to use them on this page.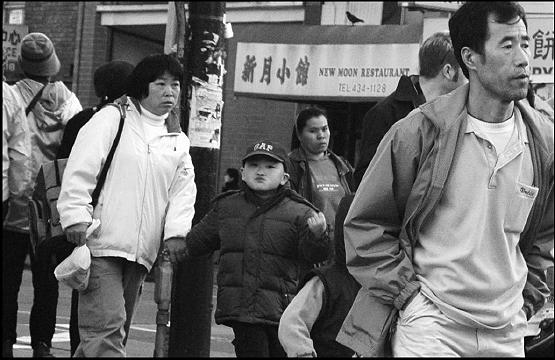 Chinatown, February 22, 2006, 6:23 p.m.


Keary Street, July 8, 2006, 5:45 p.m.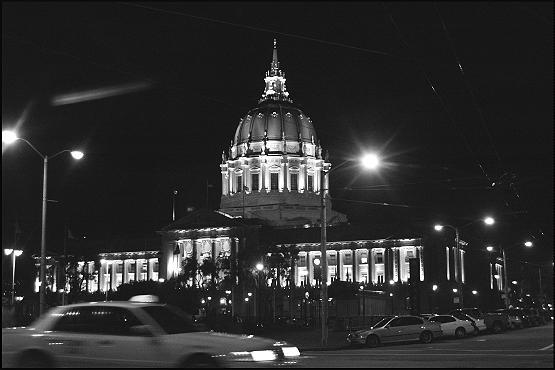 City Hall as seen from McAllister and Larkin Streets, March 4, 7:10 p.m.


Lady trying to get her drunk boyfriend out of my taxi, October 29, 2006, 2:39 a.m.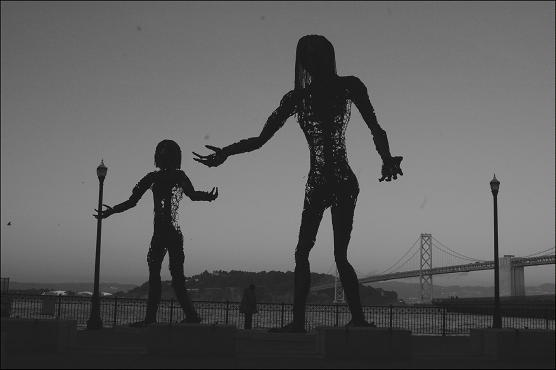 Art along the Embarcadero, September 15, 2006, 6:58 p.m.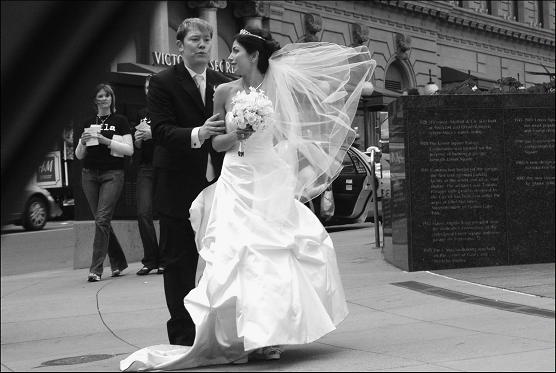 Bride and groom at Union Square, August 19, 2006, 6:21 p.m.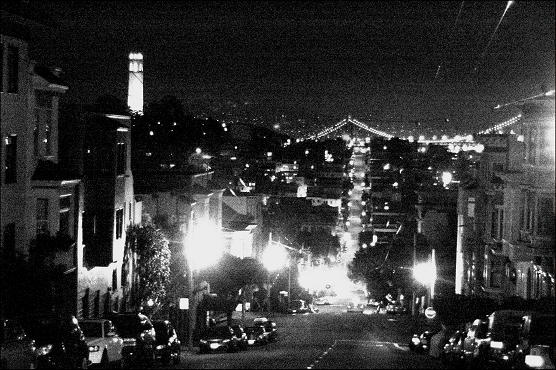 Driving into North Beach on Union Street, March 16, 2006, 12:56 a.m.


Hey, what time is it? March 25, 2006, 6:52 p.m.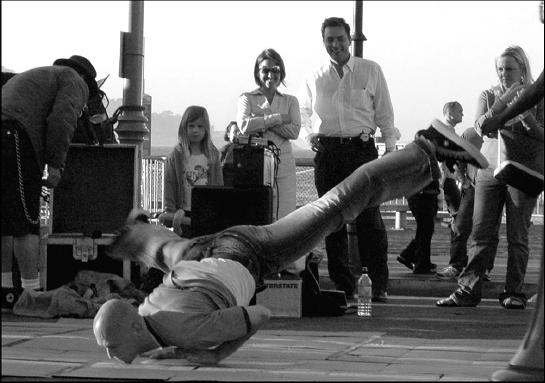 Street performer, August 30, 2006, 6:49 p.m.



TransAmerica Building (left) and Francis Ford Coppola's building,
October 24, 2006, 6:53 p.m.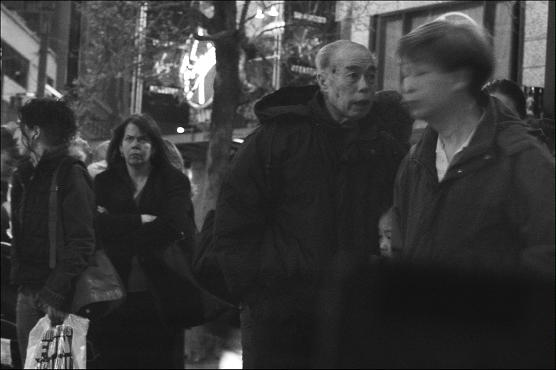 Shoppers at Union Square, April 1, 2006, 7:41 p.m.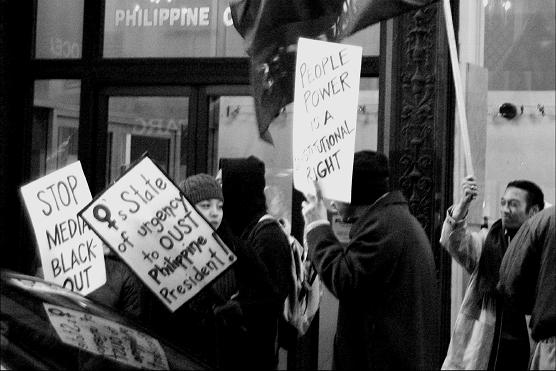 Rally outside the Philippine Center Building, March 3, 2006, 6:53 p.m.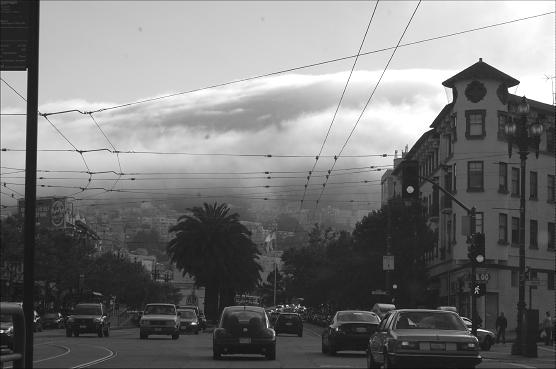 A view of the summer fog coming over Twin Peaks, August 26, 2006, 6 p.m.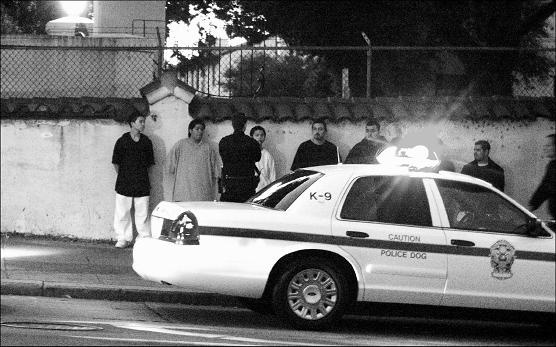 Police question some youths on Van Ness Avenue, August 30, 7:53 p.m.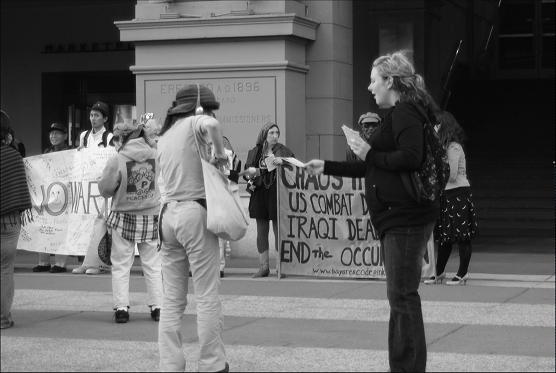 An anti-war rally outside of the Ferry Building, October 11, 6:20 p.m.


Two girls, one looks up, February 24, 2006, 6:18 p.m.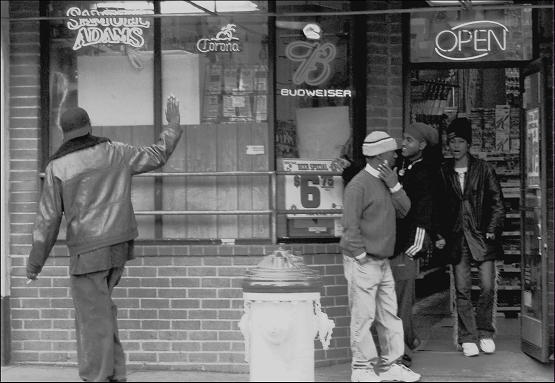 Wave goodbye, March 4, 2006, 6:23 p.m.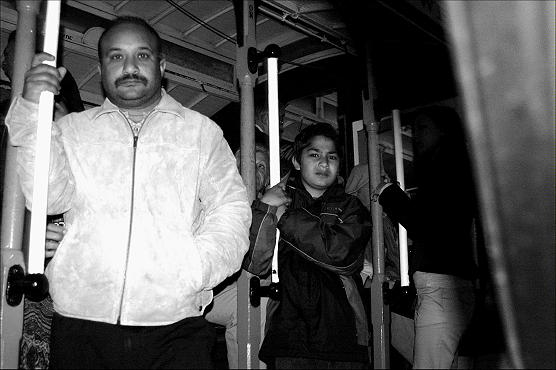 Man and girl on cable car, March 4, 7:19 p.m.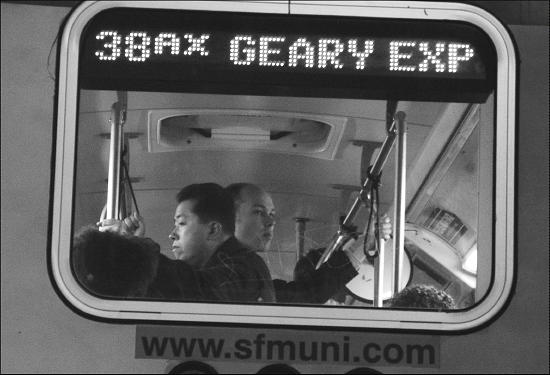 On a Muni bus, October 24, 6:24 p.m.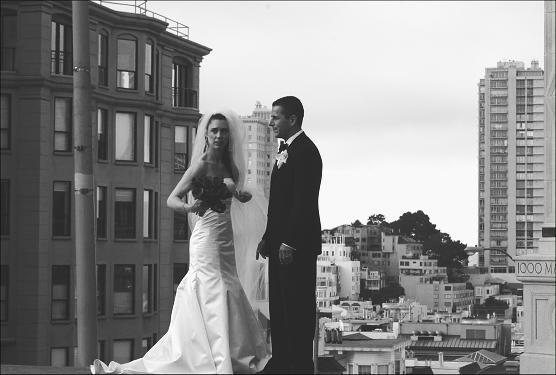 Bride and groom on Nob Hill, September 29, 2006, 5:23 p.m.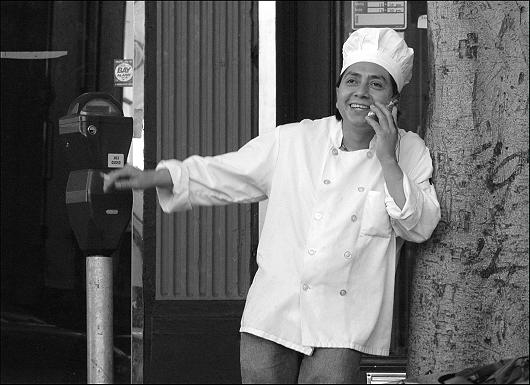 Hey, get in here and cook my dinner! Chef on cell phone, July 11, 6:38 p.m.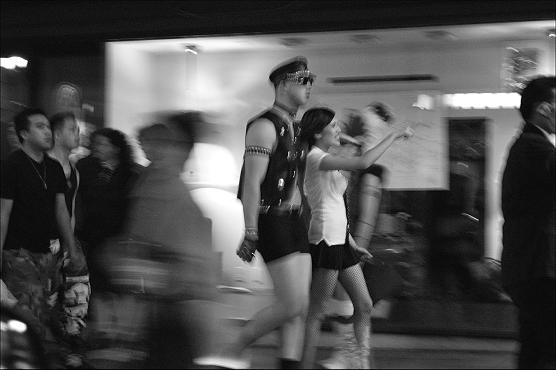 Halloween party at the St. Francis Hotel, October 28, 10:56 p.m.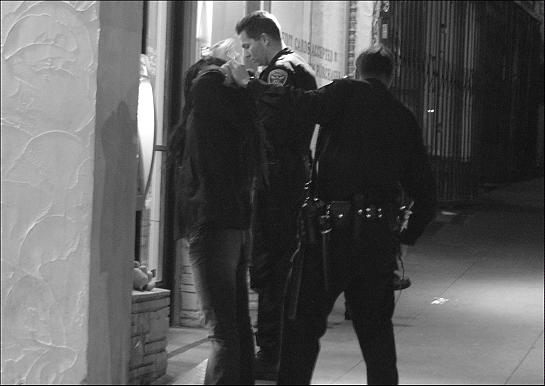 Police frisk a man on Polk Street, March 16,2006, 1:05 a.m.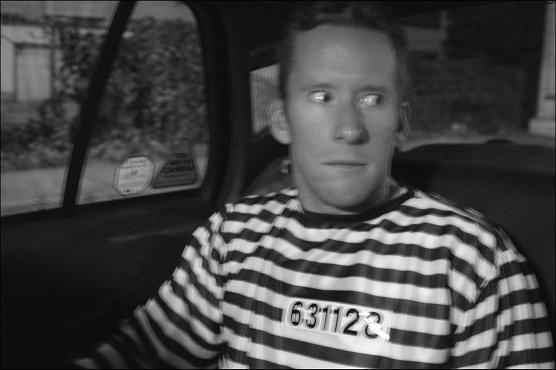 Taxi customer going to a Halloween party, October 28, 10:56 p.m.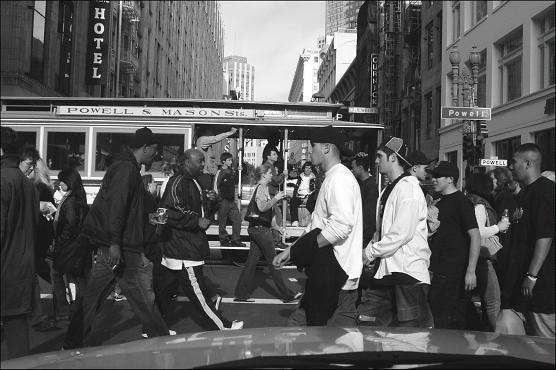 People crossing Powell Street, April 8, 2006, 5:30 p.m.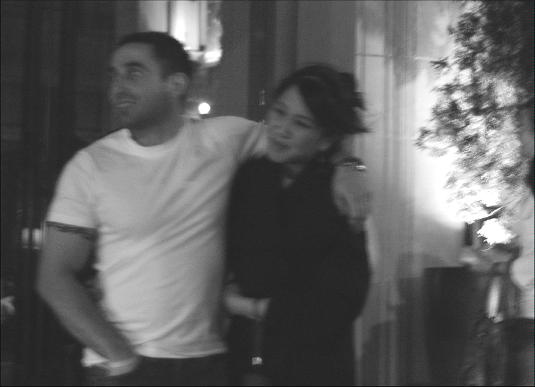 Guy and girl on a date, March 5, 2006, 1:31 a.m.


Lady lying on the street, October 3, 2006, 5:54 p.m.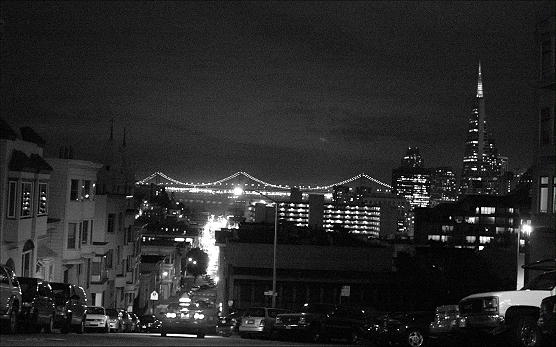 The view from Broadway at Taylor Streets, March 29, 2006, 9:08 p.m.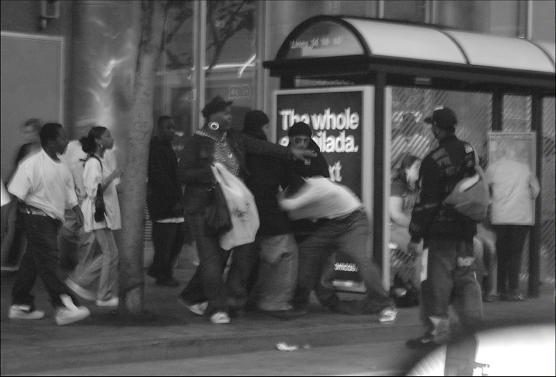 Rumble at a bus stop, September 2, 2006, 7:41 p.m.

Bonus Photos!
Two images previously viewed in color, but I think they work well in black and white.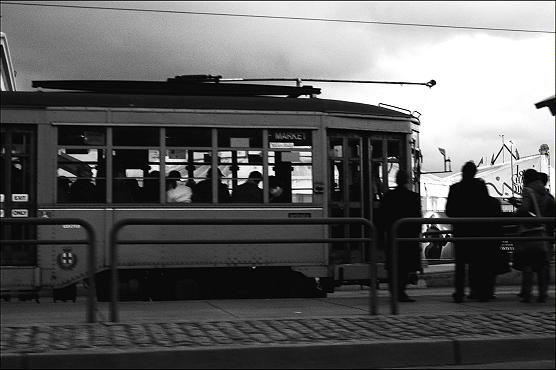 Riders enter the F Streetcar on the Embarcadero, March 10, 6:58 p.m.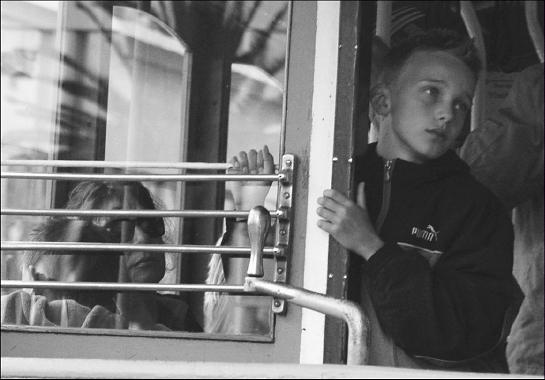 Boy on cable car, April 5, 2006, 5:36 p.m.





WELL THAT'S ALL FOLKS! I WOULD LOVE TO HEAR ANY FEEDBACK. FEEL FREE TO SEND COMMENTS TO:
Philflash@AOL.com
THANKS!